Cat Talk – new video March 27th 2022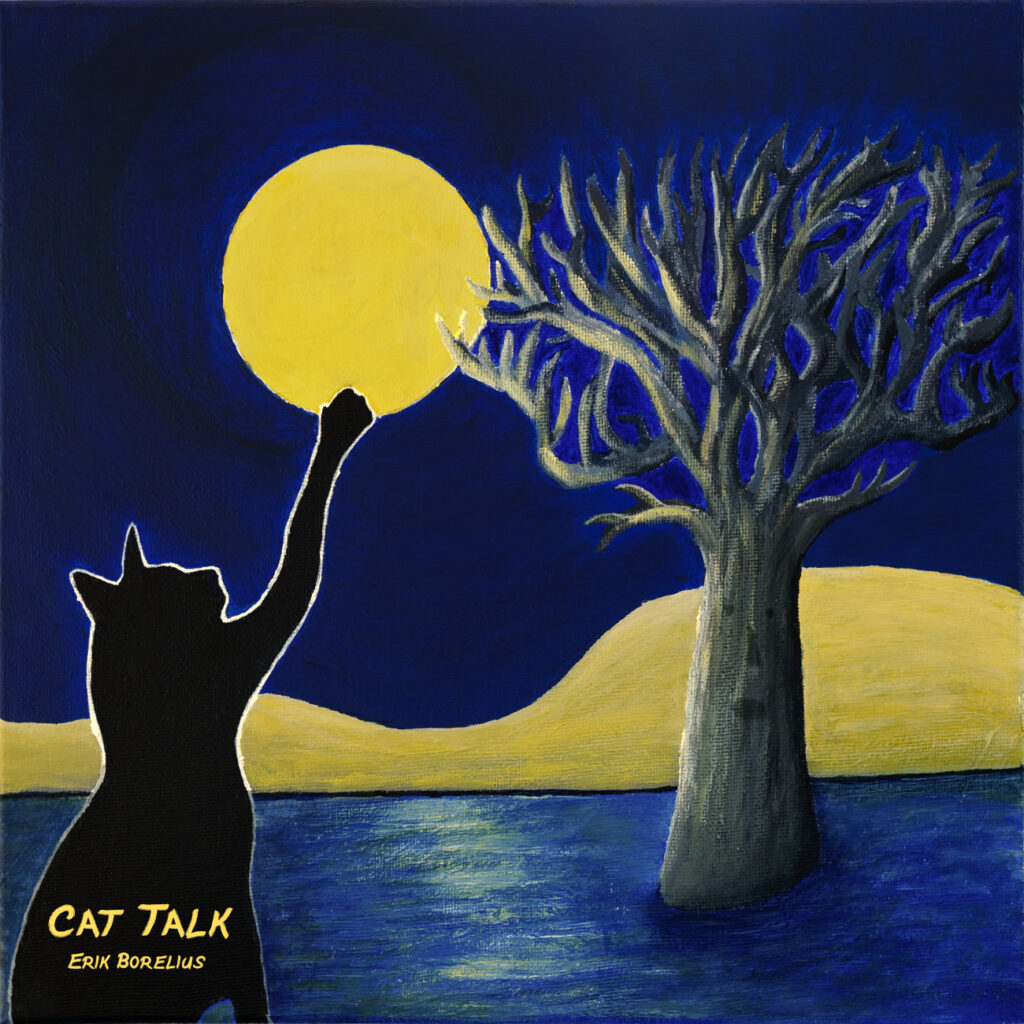 Cat Talk – The acoustic guitars play the leading role in this delicate melody with a feel of classical music.
The second single from Erik Borelius' sixteenth album. Thanks to Uffe Börjesson for good advice. Erik plays on a Löf Irené with True Temperament and a Levin from the sixties.
Cat Talk will be available on all streaming services on Friday March 18th.
---
Can You Keep a Secret? New video February 4th
---
Can You Keep a Secret? New single January 21st, 2022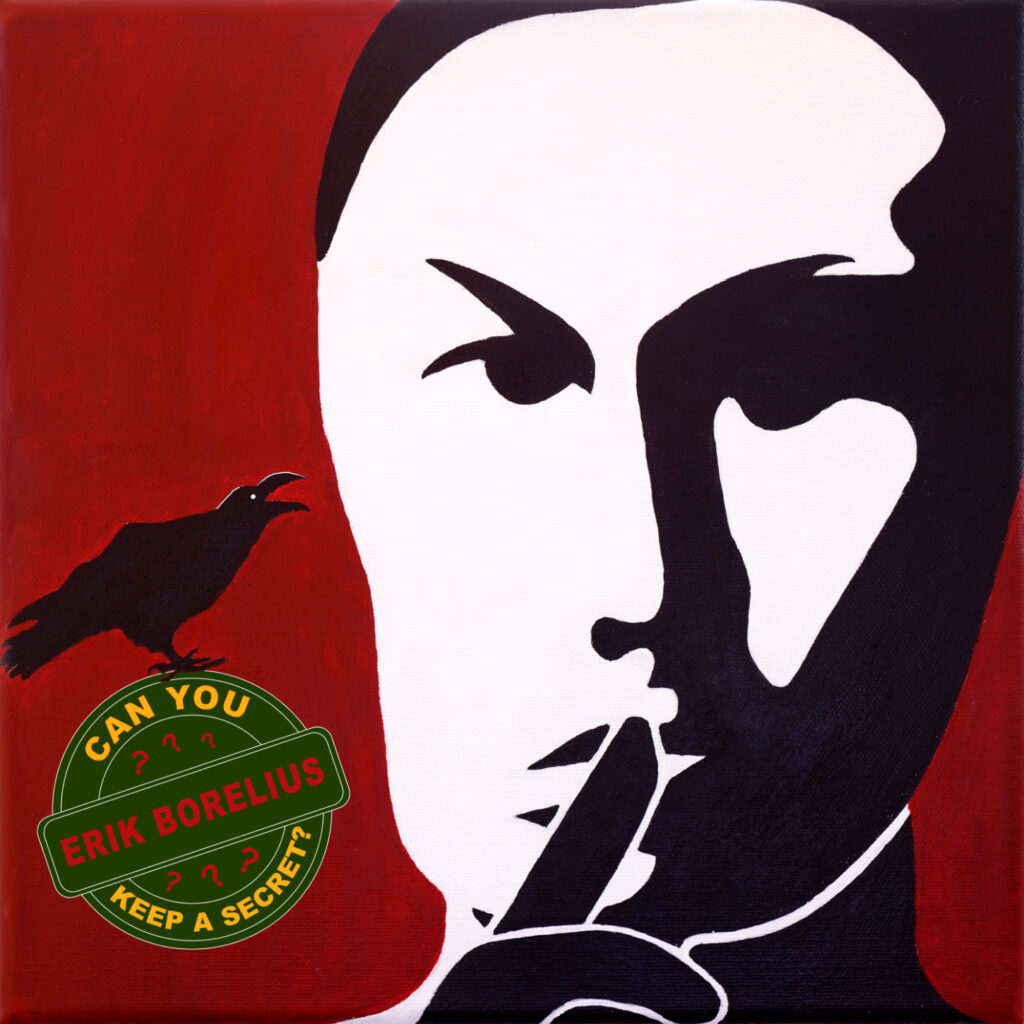 Can You Keep a Secret? – high tempo with a touch of the mood of a classic Bond movie. Mats Persson plays a leading role with his groovy drumming.
Can You Keep a Secret? is available on all streaming services.
---
Familiar Rooms, release May 7th 2021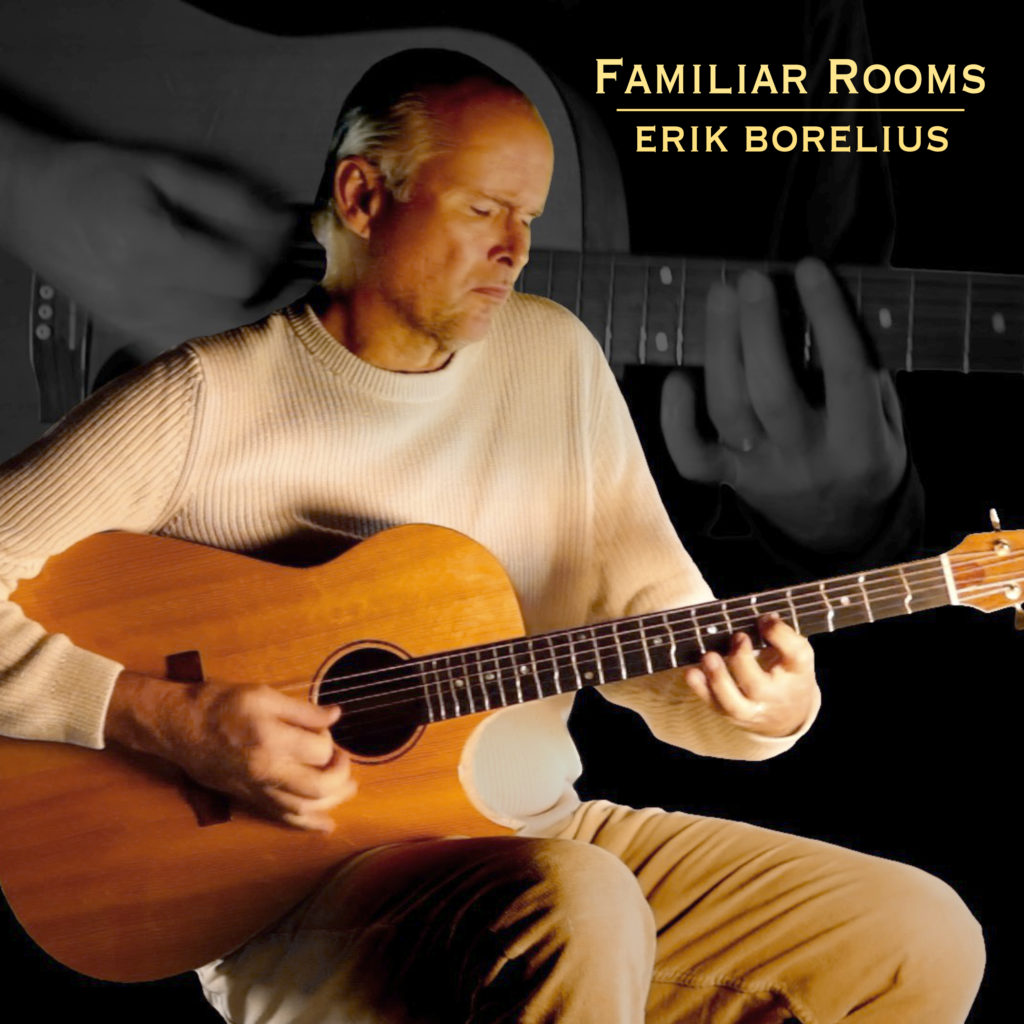 FAMILIAR ROOMS (EB Music 2021). Five melodies with vocals and four instrumental – as usual, the genre breadth is large. From jazzy pop with lyrics on current subjects to fiery Latin guitar music.
Familiar Rooms is Erik Borelius's fifteenth album. The album contains the nine singles Erik Borelius released during 2019-21. For each melody, Erik has made an illustration based on his interpretation of the music. This time, four of the melodies are also represented as music videos.
Familiar Rooms begins with the classically melodic In Comes the Storm, song two is The Humble One with lyrics about the importance of humility. It is followed by fiery Scandinavian Sundance where Erik returns to his roots and plays in true Al di Meola spirit! The text in the much calmer Life on Hold is about the, for many, difficult Corona times we live in. In En saknad man (Swedish lyrics), Erik sings about how to feel the closeness of a deceased father. Once Upon a Time on a Highway is an instrumental song with a beautiful melody that passes over into a mysterious road-trip trot. After that the more classical, softly melodic Knight's Tune. The heavy and laid-back Flame at Heart followed by the fiery Latin-scented melody Velvet Shoes on a Hot Tin Roof end Familiar Rooms.
Erik Borelius has composed and produced Familiar Rooms and plays guitars, bass, rhythm instruments (melodies 2, 3, 4, 6 and 9) and cello (melodies 1 and 8). Mats Persson plays drums and percussion on melodies 1, 5, 7 and 8. Cover illustration by Erik Borelius.
The videos:
In Comes the Storm, The Humble One, Scandinavian Sundance, Life on Hold, En saknad man, Once Upon a Time on a Highway, Knight's Tune, Flame at Heart, Velvet Shoes on a Hot Tin Roof
---
Photo Johan Adelstål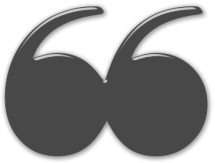 A new star, the ultimate guitar album (GP), Fantastic debut (SDS), "Exceptional musicality" (OJ), "Do not miss Erik Borelius" (KvP) … the acquaintance with this ultimate guitarist will be this years musical event (JP)
No Fool from the debut album Perfect Partners 1986
It is concert music. Modern classical music. Delightful, beautiful, suggestive and expressive. Erik Borelius is a virtuoso waiting to be discovered by a huge audience all over the world (DD)
Grammy-awarded SexTioTvå. This version from the collection Guitar 2000
… a perfect quartet sound. … the melodies are first class, as are the vocals (VF), Erik Borelius makes the kind of music that ought to be heard in the scenes of a five star movie (AH)
What Is It All About from Erik Borelius And House Of Sound 2014
Erik Borelius & House of Sound live 2014 (photo Johan Adelstål)
… this is about a highly skilled musician who doesn´t avoid any style in his creative work. He represents a unique width and variation so everyone is guaranteed something that appeals, whether you dig pop, jazz, funk, rock or classical music (ST)
Back To You from The World We Know 2010
Imagine Jimi Hendrix, imagine Django Reinhardt and Gypsy Kings, think of Swedish folk-music and sadness. …The influences comes from many different styles but Erik's astonishing technique and perfectly clear acoustic tone together with his arrangements forms a whole often lacking on a "Best Of"-album (GD)
Don´t Say No Senorita from the Grammy-nominated album Duende. This version from the collection Guitar 2000
Anyone who takes the time to get into Erik Borelius world of music will be generously rewarded (M), The music is meditative, soulfull, lyric, impulsive and inspiring (GP)
Northern Lights from My Kind Of Picture 1995. This melody was played everyday for four years on Swedish Television
Photo Johan Adelstål
He plays and sings with a supreme sense of closeness. Well varied compositions, with lyrics that reach deep down (NA), … writes songs that ought to make Donald Fagen and Walter Becker jealous (ÖA)
Woman On The Floor, Erik´s debut as singer 2003. The album What Is Success
The whole record is in parts so perfect that you shiver with pleasure. … Put your head-sets on and sit back and enjoy (TT), This year's surprise from Sweden? (ST), A softly swaying, jazzy rocky craft put together by parts that make me think of names such as Steely Dan, Pink Floyd and Paco De Lucia (GP)
Life can be this picture from What Is Success
Unusually successful, well-arranged modern instrumental music… an eldorado for acoustic guitars. Within Borelius the soloist lives an inflammable little flamenco player… Duende stands apart from all faceless new age, ambient music and whatever else today's versions of different instrumental music are called (SDS)
Duende from the Grammy-nominated album with the same name. This version from the collection Guitar 2000
His acoustic playing is transparently elegant, while the electric parts are close to catching fire. Furthermore he is a good singer… It´s smart and beautiful, but still not overloaded, and it swings with supreme authority in all the various tempos (VF)
Skinthin Attraction from Live The Life Of A Star

From the recording of Erik Borelius and House of Sound (photo Ninna Lindvall)
Homepage photo by Erik Borelius unless otherwise stated