(Click on the cover art above for more pictures and information)
FAMILIAR ROOMS (EB Music 2021). Five melodies with vocals and four instrumental – as usual, the genre breadth is large. From jazzy pop with lyrics on current subjects to fiery Latin guitar music.
Familiar Rooms is Erik Borelius's fifteenth album. The album contains the nine singles Erik Borelius released during 2019-21. For each melody, Erik has made an illustration based on his interpretation of the music. This time, four of the melodies are also represented as music videos.
Familiar Rooms begins with the classically melodic In Comes the Storm, song two is The Humble One with lyrics about the importance of humility. It is followed by fiery Scandinavian Sundance where Erik returns to his roots and plays in true Al di Meola spirit! The text in the much calmer Life on Hold is about the, for many, difficult Corona times we live in. In En saknad man (Swedish lyrics), Erik sings about how to feel the closeness of a deceased father. Once Upon a Time on a Highway is an instrumental song with a beautiful melody that passes over into a mysterious road-trip trot. After that the more classical, softly melodic Knight's Tune. The heavy and laid-back Flame at Heart followed by the fiery Latin-scented melody Velvet Shoes on a Hot Tin Roof end Familiar Rooms.
Erik Borelius has composed, produced Familiar Rooms and plays guitars, bass, rhythm instruments (melodies 2, 3, 4, 6 and 9) and cello (melodies 1 and 8). Mats Persson plays drums and percussion on melodies 1, 5, 7 and 8. Cover illustration by Erik Borelius.
The videos:
In Comes the Storm, The Humble One, Scandinavian Sundance, Life on Hold, En saknad man, Once Upon a Time on a Highway, Knight's Tune, Flame at Heart, Velvet Shoes on a Hot Tin Roof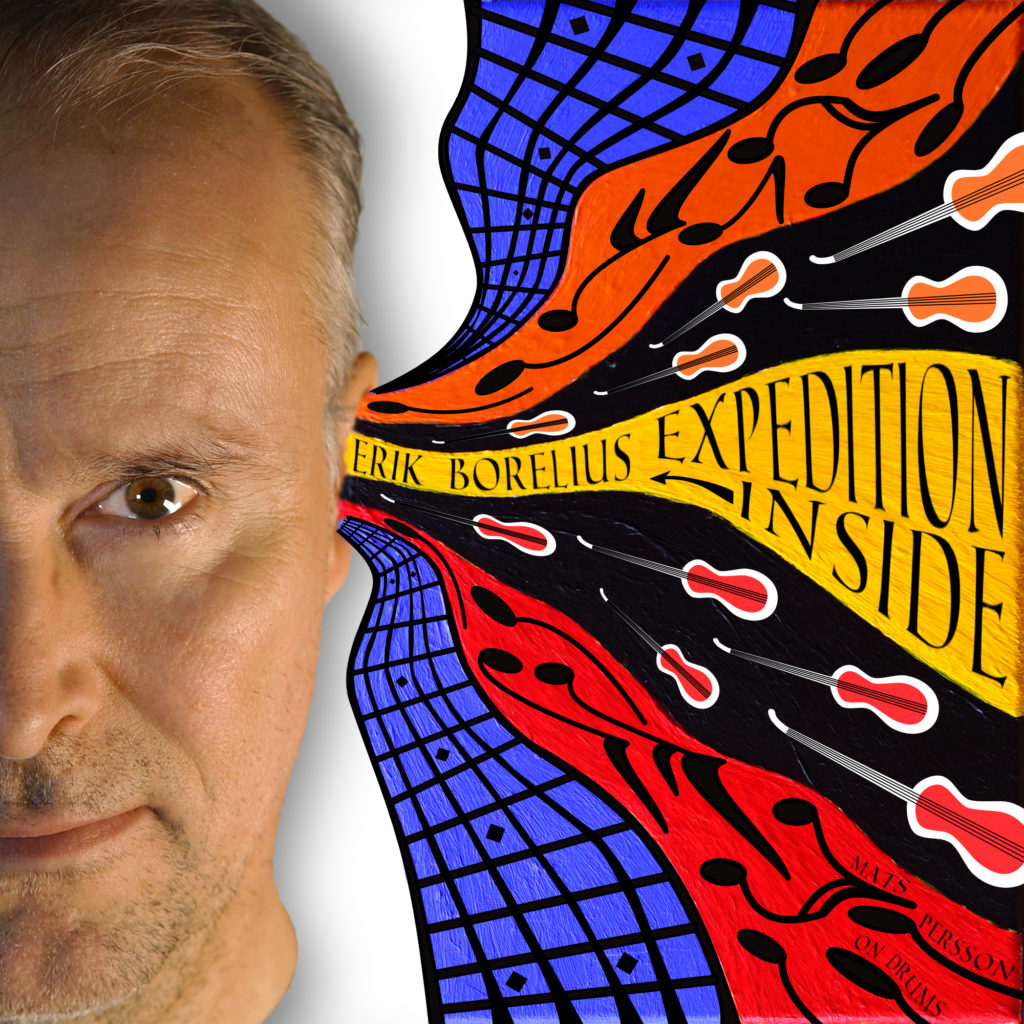 (Click on the cover art above for more pictures and information)
EXPEDITION INSIDE (EB MUSIC 2019). It's time for the release of Erik Borelius' fourteenth album Expedition Inside. It contains the nine singles Erik Borelius released during 2017-18. For each song, Erik painted and took photos for the single cover design based on his interpretation of the music. For Erik, this is a new and exciting way to present his music.
Expedition Inside is packed with guitars. Erik Borelius' favorite for the moment, the Danelectro Baritone, colors several tracks. All songs are instrumental, the styles differ, but the acoustic and electric guitar playing unifies the music.
Expedition Inside is a journey with Demons & Saints, thru the Latin jazz of A Night in Seville, to the dramatic Between Wind and Water.
After a Meeting with the jazz-rocky Tiptoe, the journey continues Northbound for inspiration from Swedish folk music, followed by easy-listening jazz-pop in Kind of Wild.
On the last leg, you hear Lone Tones in a Morricone-scented Shoot Out, followed by a rocky Taking Off, ending up in The Explorer of soft jazz fusion.
Erik Borelius has composed and produced Expedition Inside and plays guitars, bass, and trumpet (Lone Tone Shoot Out). Mats Persson, one of Sweden's most recognized musicians, plays drums and percussion. Mastering by Uffe Börjesson, Earhear.
Demons & Saints, A Night in Seville, Between Wind and Water, Meeting Tiptoe, Northbound, Kind of Wild, Lone Tone Shoot Out, Taking Off, The Explorer
---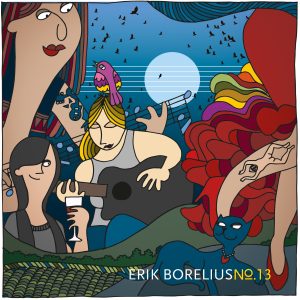 (Click on the cover art above for more pictures by Johan Adelstål and more information)
ERIK BORELIUS NO.13 (EB MUSIC 2016). During this past year Erik Borelius has released one single a month. For Erik it's a new and exciting way to present the music. For each song, the designer Johan Adelstål created a graphic illustration based on his personal interpretation of the music. Now it's time for the release of the whole album. Erik also celebrates 30 years as a recording artist with Erik Borelius № 13.
"This time the songs have emerged one after another. The focus has been on the single tune more than the album as a whole. The styles are different, but I think the acoustic and electric guitar playing unifies the music," says Erik.
The album is composed and produced by Erik Borelius and except for Erik on guitars and bass three skillful percussionists/drummers has participated; Pär Hedtjärn, Mats Persson and Fredrik Bergström. Mastering by Uffe Börjesson, Earhear.
Erik Borelius № 13 is packed with guitars. Seven out of nine melodies are instrumental and offers various styles; from the happy, deft and floating Flybird to thriller-music inspired KoBaCa and the flamenco-scented Silver Echo. On En Lyckligt Lottad Man (Swedish for A Most Fortunate Man), with a touch of English folk music, Erik sings in Swedish for the first time.
Across The Deepest Waters, Silver Echo, Groovy Blue, En Lyckligt Lottad Man, Flybird, Cool Cat, Slo Mo Days, KoBaCa, Thirty Pearls
---

ERIK BORELIUS AND HOUSE OF SOUND (EB MUSIC 2014). Erik Borelius and House of Sound is Erik's twelfth album. It's also the name of the band he formed with Pär Hedtjärn, Jonas Hedlund och Anders Olausson. Together they present ten of Erik's new melodies in a new and unadorned way. Most of the time you only hear two guitars, vocals, bass and drums. The recording is done in a direct way, with few overdubs, to create the same feeling as when the band performs live. On the album Erik Borelius and House of Sound cooperates with one of Sweden's most sought producers, Sven Lindvall, who also recorded and mixed the album.
Erik Borelius and House of Sound is the guitar player and singer Erik Borelius twelfth album since the debut in 1986. It's also the name of the band Erik formed three years ago with the musicians Jonas Hedlund (electric guitar), Pär Hedtjärn (drums) and Anders Olausson (bass). The goal was to create a small, tight unit with a big sound playing new arrangements of Erik´s music. After a number of successful concerts, it felt natural to record Erik's next album together. "It's great to play with these superb musicians who give so much of themselves, both on stage and in the studio", says Erik Borelius.
With the band Erik is searching new paths. Melodically he is trying to simplify. Together they present ten of Erik's new melodies. The arrangements are unadorned. Most of the time you only hear two guitars, vocals, bass and drums – pretty much like Erik and the band sounds live. "Unlike my previous albums the goal has been to work directly, without overdubs, choirs and synthezisers. I want to be able to play the songs with just vocals and an acoustic guitar… and to get a better flow, I have developed my finger picking", says Erik.
On Erik Borelius & House of Sound Erik collaborates with one of Sweden's most sought producers and musicians; Sven Lindvall. "Sven has a great feeling and it's been educational and inspiring to bounce thoughts and ideas. I myself sometimes poke too much in details. Sven will find new ways and it's exciting and fun", says Erik. In addition to having produced the album Sven Lindvall also recorded and mixed Erik Borelius & House of Sound. The cover art was created by art director and artist Johan Adelstål.
The Journey Has Begun, I Walk Alone, Mohawk Trail, Cut Me Loose, What Is It All About?, This!, Consoler, Moon Ride, Perfect Match, Dream On and On
---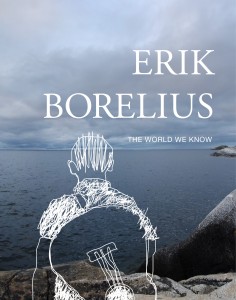 THE WORLD WE KNOW (EB MUSIC 2010). Now Erik Borelius is back with The World We Know. Melodic as always with depth in the arrangements – his intention is to create music that grows with each listening. Erik sings again and the lyrics tell stories about the modern man and his inability to let things take time in Make Time, of bullying in The Sisters, about the problem of knowing whether to say YES or NO and about Erik´s strong ties to the Stockholm Archipelago in This Island.
Of course, the guitar has a prominent role on The World We Know. On the title track it carries the bluesy riff throughout the song and on This Island two dozen full-bodied acoustic guitars create a shimmering presence. In Back to You, one can hear Erik's Latin-inspired virtuosity and on his version of the famous Swedish folk-song Värmlandsvisan he mixes soft tones from the nylon stringed guitar with the ever-distinctive electric guitar.
Pär Hedtjärn plays the drums and Rebecca Zätterström sings backing vocals. Aare Pöder plays the piano on This Island. The beautiful album design was created by art director Johan Adelstål with stunning images from the Stockholm archipelago by photographer Petter Karlberg.
The World We Know, This Island, Yes Or No, Lonely Hearts, Back To You, Make Time, I Will Never Die, The Sisters, Värmlandsvisan
---

MOVIES ON A STRING (EB MUSIC 2008). The acoustic guitar, which has become one of Erik's trademarks, plays the leading role on Movies on a string. The melodies are known from the world of the movies but the interpretations are free.
"I got the idea for this album when I saw Rambo-First Blood in the fall of 2007. This is a movie were the score is brilliantly interwoven and character-enhancing. The music is also very energetic and rhythmically interesting. Hulk is a great action movie for childish people like myself. The main musical theme is brilliant and makes up half the movie if you ask me! It´s not particularly "guitar-friendly" and was an interesting challenge to arrange, Erik says.
Movies on a string contains interpretations of well-known melodies like The Godfather and Now we are free from Gladiator. "In the melody Cabaret you can hear me in a more jazzy style than usual". On the last track, the famous Duelling Banjos from the pulse-pounding ordeal Deliverance. Erik plays his "banjo" with a single pick in a guitar-ish style. Mono, Lo-Fi recording.
Movies on a string is the world's first album recorded with a True Temperament fret board on an acoustic guitar. The twisted frets gives an optimally tuned guitar and an noticeable difference in clarity compared to the traditional instrument. Enjoy the sound of the guitar of the future!
Now We Are Free, Heaven On Their Minds, Godfather, Cabaret, Carabé, Hulk, Calling You, On Her Majesty´s Secret Service, Rambo, Poltergeist, Duelling Banjos
---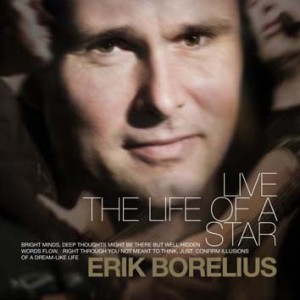 LIVE THE LIFE OF A STAR (EB MUSIC 2006). On the new album Live the life of a star, Erik Borelius creates a totally new breadth in his music with epic encounters between different instruments, styles and voices. He mixes beautiful, suggestive, tracks and innovative thought provoking lyrics with pirouettes from his nylon strings. The acoustic guitar, which has become one of Eric's trademarks, is of course present on the new album.
"
It was a natural development for me to start singing, and even more so after the encouraging reception of my previous album. I now feel that I have an additional instrument that has helped me develop and vary myself

"

, Eri

k

comments.
A musical journey over twenty years has meant constant development within new areas for each new album. The song has become an important part of Erik's music. – It was a natural development for me to start singing, and even more so after the encouraging reception of my previous album. I now feel that I have an additional instrument that has helped me develop and vary myself, Eric comments.Fredrik Bergström plays the drums, Rebecca Zätterström on backing vocals, Johan Hansén-Larsson bass on 1, 5, 6, Jakob Ellerstedt piano on 6, 7, Maja Callius backing vocals on 1, 5, Vivien Searcy backing vocals on 1, 5, Niclas Lindblom bass on 9, Aare Pöder keyboard on 9.
Skinthin Attraction, November Blues, No Man Rules Over Her, Dreamers Eye, Live The Life Of A Star, 22 In 84, Mars And Beynd, Spongy Feet, If The Hero Dies, Memories Of You
---

WHAT IS SUCCESS? (EB MUSIC 2003). When work on Erik's latest album, the collection Guitar, was coming to a close he felt it was time for something new. Erik has always enjoyed singing and was curious to hear what it would sound like if he composed from the basis of his own voice – if he made songs that suited him. "It's a completely different matter to make music with vocals. The voice in itself gives room for so many emotions. With the guitar it can be harder to reach all the way. Because of that composing was easier and more pleasurable than I had anticipated. With the voice, possibilities are unlimited – you can use it as a background, rhythm-instrument, choir or bass. Creatively it is the ultimate instrument", Erik says.
His lyrics deal with unusual subjects. For example he writes about the older generation that is forgotten by their children in Woman on the floor. The romantic The fan is a story about a boy who worships a soccer-hero and how he gathers courage to contact his idol. In the title-tune What is success? he gives a description of how humans have a tendency to value success and happiness in terms of money and assets.
"Part of the fascination with working as I do is to see the album develop with me as the director. A great deal of work concerns technical matters but it is always connected to the artistic dimension in this job. "For example Fredrik Bergström's drum sound took some time to find. We experimented with paper, microphone-angels and multiband-compressors to get the short, tight sound that doesn´t take much space but is simply there", Erik says. As on all of Erik's albums since Duende, Aare Pöder plays the keyboards. Among other melodies, you can hear him in Woman on the floor where he also plays a solo. A young, promising singer – Rebecca Zätterström, sings harmonies and backing-vocals. Johan Adelstål has designed the album.
Woman On The Floor, The Fan, I Believe, Manhandle, Shandor, The Thin Blue Line, The Loner, His Logic Was Bizarre, What Is Success?, To Love And Be Loved, Life Can Be This Picture
---

GUITAR (EB MUSIC 2000). The album is unusual in that eleven completely new versions of Erik's favourite melodies are included. They are not remastered or remixed, but completely remade, from scratch. In addition, "Erik Borelius – Guitar" includes five original recordings and one completely new track. In total there are17 tracks and more than 73 minutes of music!
Usually Erik is a sceptic when it comes to collections. He feels that every album has it's own style and sound. At the same time, making a collection felt like a logical step after releasing six albums and Erik was inspired by the idea of recording the tracks from scratch and allowing them to be influenced by the feelings and the knowledge that he has today.
With the new recordings, Erik has taken his original intentions with the melodies one step further. Much of the material has therefore received a new sound: "Duende" has become an even more heavy-beat spaghetti western track. The Flamenco guitarist Alberto Vicente helps put more heat into "Säg inte nej, Señorita" (Eng. "Don't say no, Señorita"). More action has been added to the Bond inspired track "My Kind of Picture" and the melodies from Perfect Partners and Fantasy have been refined and received a richer character.
Erik was very excited when he saw a book full of naivistic drawings by art director Johan Adelstål. "This is how I want the cover to look!" And so it was done! Every illustration and all the text in the 24 page booklet has been specially made for the album by Johan Adelstål!
Erik has had the privilige of playing with many skilled musicians over the years and a number of them have participated on this album. Aare Pöder on keyboards, Johan Granström on bass, Christer Sjöström on drums and percussion and all the others have, with their ideas and their musicality, given the music an added dimension. "We have also had a lot of fun" Erik says. "Hopefully this comes through on the record!" Other musicians Per Lindvall drums on 5, 15, Fredrik Bergström on drums and percussion, Christer Nilsson harmonica on 9, Estelle Milburne vocals on 5.
My Kind Of Picture, Exhausted, Säg Inte Nej, Senorita, Hevelina, The Minstrel-Boy, Northern Lights, Happy Fly, Duende, Solé, No Fool, Sea Of Dreams, Mexico, Gonda Strålar, SexTioTvå, Pacific, Blue Flame, Devils Cry
---

REALITY BITES (EB MUSIC 1997). One could state that reality bites! But you create your own reality. Mine is filled with music. When I enjoy music the most it is like a dream or a fantasy in which I travel. And because "Reality Bites" I have to – and that is probably one of the best things with my job – work hard to remain a disciplined dreamer!
To me, music speaks a more clear language when it is free from verbal communication. When my mother gave me a little book with English poetry two years ago I came to think differently. This language had an intangible beauty and flowed in a way that inspired me to put music to the words. The poems focus on matters that are eternal questions for mankind!
"The Minstrel-boy" by Thomas Moore (1779-1852) tells the story of the minstrel that goes to war, gets captured and chained. He tears the chords of his harp and says: "Your songs were made for the brave and free, They shall never sound in slavery". The spirit of art can never be imprisoned! "Remember" by Christina Georgina Rossetti (1830-1894). Is about the fear of being forgotten when you reach "the silent land". A uncompromising desire to be remembered. But it has to be happy memories. Better to forget and be happy than to remember with sadness.
"Ms.SWE" – "Mother Sweden" is out of sorts. Nothing is like it was in the great old days. Silent sighs from the surrounding world when they look at Svea. Diamond clear and honest in the past, tired and worn out today. The whole world misses its guide of conscience through time and space! "Nobody Knows" – a question to everybody that believes in a god: Should you worship a being that can see all the pain and fear on the earth but despite its inexhaustible powers takes no action against it?
The instrumental music is not forgotten! "2Cult" – Nordic harmonies meets Latin temper. "Mexico" – a sweaty story about six unowned horses (guitars) struggling across The Gran Desierto in northwestern Mexico. "Pacific" has a recurring theme that everything circles around and takes its energy from. Like the ocean. "Action" is a mix of tv-thriller music and hard rock. You may smile! The old villain Blofeld is back with his purring Persian cat.
Three musicians helped me to create "Reality Bites": Per Lindvall, Aare Pöder and Johan Granström. Estelle Estelle Milburne sings. She is well known from the TV-show "Knesset" and as the singer in "Cotton Club".
The Minstrel-Boy, 2Cult, Remember, Mexico, Ms. Swe, Pacific, Nobody Knows, Action, Blofelds Cat
---

MY KIND OF PICTURE (EB MUSIC 1995). The Setting. The elevator up to fifth floor. Thin walls from the early functional-style period. Lonely tones can be perceived. 44 square meters; studio, guitars everywhere. 17 degrees Celsius in the winter, 30 in the summer. Riddarfjärden ("Bay of Knights" in the middle of Stockholm) glitters and inspires. "My Kind Of Picture" has to a great extent been created under the influence of the environment in which it was made.
As the title "My Kind Of Picture" reveals Erik has, on this his fifth album, been thinking in pictures while composing: "Oceans May" – the power of the ocean is absolute. Waves against a desert beach. The sun is dark, dark red. "Silent Reunion" – pure and simple romance. "Northern Lights" – far away but yet so close. Northern lights was played every morning in Swedish Television between 1996-2000. Spreads light but also sadness. The title and title melody is a declaration of love to the motion picture that in its way of expression is related to the music.
Fredrik Bergström – "The man with the three arms" – and Peter Rousu lends weight and rhythm to the music. The keyboard virtuoso Aare Pöder, who participated on Eriks previous CD "Duende" plays an important role this time as well. Johan Adelstål took the pictures and made the cover design.
Blue Flame, My Kind Of Picture, Cithara, Northern Lights, Turn Of Temper, Silent Reunion, Oceans May, Etna, A Opus, Nadir, Shut-Eye
---

DUENDE (EB MUSIC 1994). SWEDISH GRAMMY-NOMINATION IN THE INSTRUMENTAL GENRÉ
"Duende" is, to a great extent, recorded on Ljusterö (an island) in the Stockholm archipelago looking out over the mighty Saxar bay. The nature there and environment has influenced me a lot and it has been a purpose of mine, in many of the melodies on "Duende", to try to describe the feelings I have by the shores of Saxar bay. For example in "Skymningsfjärd" ("Bay of twilight"). On "Duende" I mix different styles of music; the title song is inspired by a spaghetti western and in "Säg inte nej Senorita" ("Don´t say no senorita") you can hear Spanish flamenco influences.
I have tried to capture the Nordic melancholy in Hugo Alfvéns "Midsommarvaka" ("Midsummer-nightwatch") and "Fat Pal Party" is more of a jazz melody.
Aare Pöder is the name of the skillful keyboard player from Estonia who embellishes the melodies with his playing. "Hymn" is his own composition. On "Midsommarvaka" Aare plays on a 70 year old school organ. If you hear anything hissing it is him pumping air to the pipes. On the whole there is a chance that you can hear the wooden floor moving, when I stamp the beat or when the wind is howling against the window. In my opinion these sounds connect the music with reality. Not like in a soundproof room were the tone dies without effects. "Tiden står stilla där jag vill vara" – ("The time stands still were I want to be") is an unusual melody for me – I am singing!
It doesn't follow a common verse-chorus concept but it has an important message. Seize the day!
My nylon and steel stringed acoustic guitars plays the leading role on "Duende", but the electric guitar can be heard now and then. For example in "Tiden står stilla…". Thanks to Johan Adelstål who created the cover for "Duende".
Duende, Escalé, Midsommarvaka, Säg Inte Nej, Senorita, Skymningsfjärd, Solé, Fat Pal Party, Tiden Står Stilla, Hymn
---
SEXTIOTVÅ (EB MUSIC 1993). SWEDISH GRAMMY-WINNER IN THE INSTRUMENTAL GENRE
On "Sex Tio två", my third album, the acoustic guitar once again takes the leading roll. For me, its direct, natural feel is preferable to that of the electric.
Exhilarated melancholy, a feeling I love and try to convey, is easier to express with the acoustic guitar. On "Sex Tio Två" all the titles are in Swedish. There is a thought and source of inspiration behind that. A few examples; "Ebba Brun" ("Ebba" is a Swedish name. "Brun" means brown) – Ebba was the name of my family's brown Vorsteh dog, a happy, ball-crazy dog. "Gonda Strålar" ("Gonda" is a fantasy name. "Strålar" are beams)- is what I call the cleanest light, the light of dawn. "Dansadin…" ("Now you dance, you son of…") – is referring to the love-hate relationship I have with the guitar. Strictly but fairly it tells me – "practice more and I will give you what you want".
The cover of "Sex Tio Två" is an oil painting of mine.I love to paint and feel that it influences and inspires me in my creation of music. Apart from what you see in the painting (6 strings, 10 fingers and 2 souls), the title also refers to the year I was born, 1962.
SexTioTvå, Hevelina, Gonda Strålar, Dansadin…, Memina Medina, Ebba Brun, I Dina Ögon, Midsommarnatt
---

FANTASY (EMI 1988). Two years ago Erik's first LP "Perfect Partners" was released. A debut LP that got a fantastic reception with plaudits like "A new star" (GP), "Outstanding musicality" (OJ), "Debut above the norm" (SvD). "Fantasy" is the name of his second LP, and just as on the first all the material is his own – the music and the lyrics.
Most of the album is instrumental and naturally it is dominated by Erik's guitar playing. He is autodidactic. Hard training over the years has given him a fantastic technique and on this album the turns are a little wider.
Erik is very productive. He is always working on a new melody. He gets his inspiration from all sorts of music, mostly perhaps from rock music, which on this LP is noticeable in, for example, "Easy On You" and "Nowhereland". André Ferrari on drums, Bo Knutsson bass, Tommy Lydell keyboard, Lilling Palmeklint vocals on 2, 4, Stefan Nilsson piano, Jens Johansson keyboardsolo on 6, David Wilczewski saxofonsolo on 1, Ulf Adåker trumpet on 10.
Nowhereland, 200 Times, My Only Love, Still No Lies, West, Easy On You, Helvetia Paradise, Happy Fly, Dreamer, Blue Spring
---

PERFECT PARTNERS (EMI 1986). It all started with organ, guitar and drums in a basement in Malmoe, in southern Sweden, eight years ago. Jens Johansson playing the organ, his brother, Anders on the drums and myself on the guitar (Both Jens and Anders are now in the U.S playing in Yngwie Malmsteens band.) The songs had titles like "The kidney-dead punk boots", "Respirator slime", "Asphalt in your ear" and "Parrot illness". The music was just as sick!
Today I am 23, I live in Stockholm and my taste for music has changed over the years. The music is more healthy and the titles have a different character. As for example "No Fool", "Never Been To France", "My Friend", "For Free", "Soft Sea", "Sun, Summer", "Black Sunday" and "Devils Cry" – melodies from my first LP.
Up to the fall of 1982 I only played the electric guitar. An all-night jam session with one of the best acoustic guitar players in Sweden made me think differently. I realized that the sound and the temperament of the acoustic guitar suited my way of composing and improvising. After doing my military service I began playing full time in the fall of 1983. Being with a guitar eight hours a day is quite demanding. But I felt that I had no choice. In the summer of 1984 I sent a demo to EMI and it was a wonderful feeling when I got word that EMI was interested and there was probably an LP-production in the pipeline.
What I know about music, I have learned through listening. I am completely self-taught and I have always felt a great need to compose. I want my music to tell a story. The most important thing is to have intensity variations in the melodies so the story moves forward. Many people think that musicians with extreme technique lack feeling. For me it's the exact opposite. Good technique means that I can realize musical ideas without stumbling on the strings. It feels as if I skip the step between the idea and the result; i.e. the technical presentation.
The melodies in my first album were originally composed for two guitars. But it soon became obvious that more instruments would fit in perfectly on many of them. We were looking for two musicians that would give rhythm and weight and we found two of the best, Magnus Persson (drums and percussion) and Teddy Walter (acoustic and electric bass). Claes von Heijne plays the keyboard and has a wonderful synth solo on "Exhausted". Leif Larsson also plays the keyboards and he definitely gave my music a new dimension. On the tenor- and soprano-saxophone David Wilczewski. Marie Fredrikssons wonderful voice on the Joni Mitchell song "For Free". Many thanks to Björn Norén in EMI Studio 1, who recorded and did a great deal of the mixing.
No Fool, Exhausted, Black Sunday, For Free, Soft Sea, Sun, Summer, My Friend, Never Been To France, Devils Cry